10 Healthy Dinner Recipes To Start Spring On A Healthier Note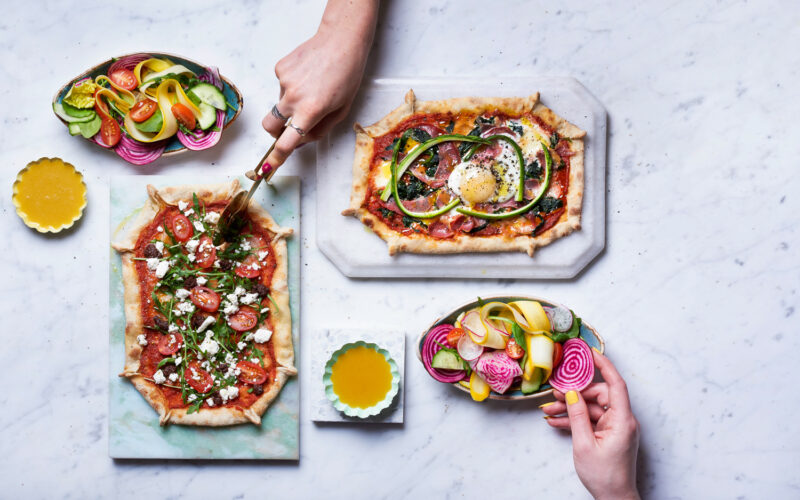 Introduction
The seasons are changing, and that means you're going to have to change your dinner routine. And no, we're not talking about it being too hot or cold to eat outside. We're talking about the fact that spring is approaching and summer is right around the corner—which means it's time for some lighter fare. That doesn't mean meals need to be boring! Here are 10 healthy dinner recipes that will keep you feeling light and energized through the transition from winter into spring:
These healthy dinner recipes are perfect for the season.
It's finally spring, which means you can get back to eating light and healthy dinners again. With the season in full swing, we rounded up 10 of our favorite spring menus that are perfect for a fresh start.
Here's our roundup of some simple yet tasty recipes that will fit right into your new spring routine—and beyond.
1. Salmon With Citrus Salsa Verde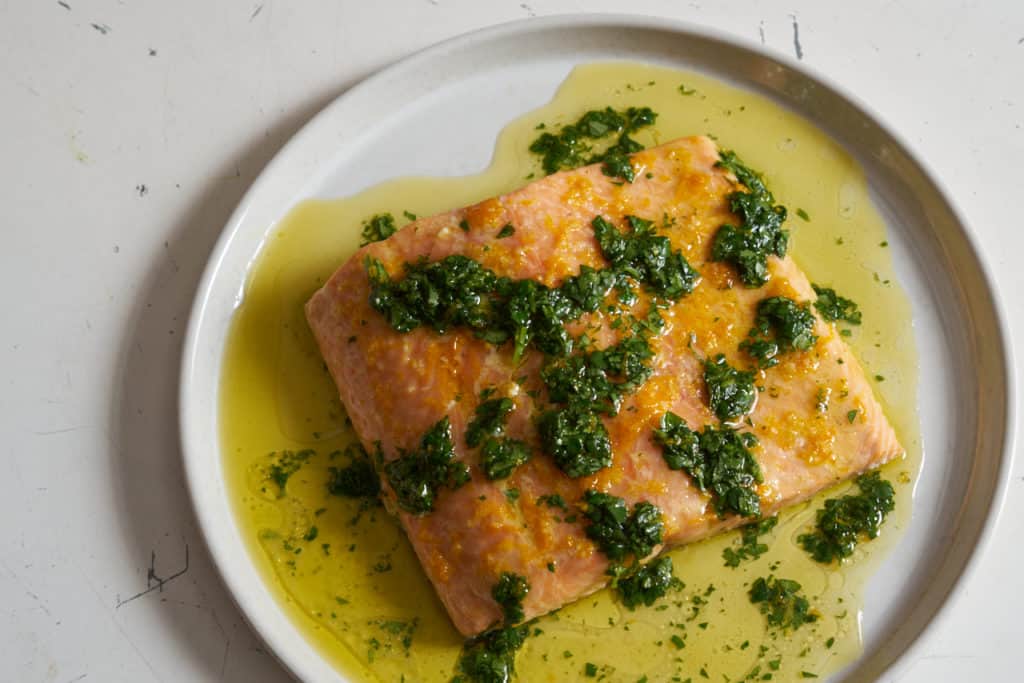 For the salsa verde, combine the 6 ingredients that go together well and let their flavors blend
Salmon: Select a piece of salmon from the center of one side, so it is as even in thickness as possible.
Oranges and lemons: We are using the juice and zest of lemons to give our recipe a strong citrus flavor.
Fresh parsley and cilantro: To get the maximum flavor from these herbs, we'll cut both the leaves and tender stems. Leaving behind stems means leaving behind flavorful bits—and that's something we don't want to do! Also – less food waste is always a good thing.
Olive oil:It is going to be our cooking oil and a key ingredient in the salsa verde.
Kosher salt : A good pinch will bring out the flavors of our salmon and veggies.
See how to make this recipe at https://finefoodsblog.com/oven-roasted-salmon-with-citrusherbsalsa/
2. Spaghetti Squash With Kale Pesto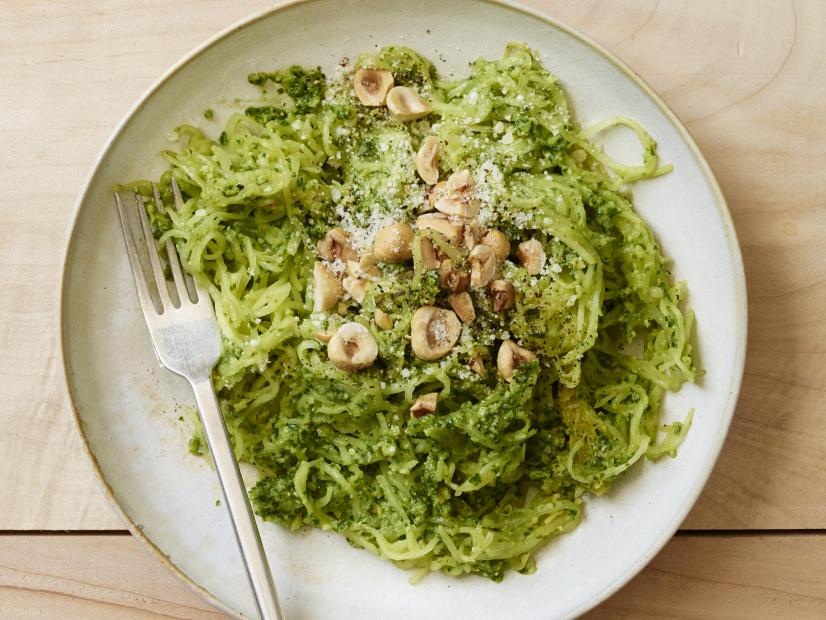 This recipe is a great way to eat your spaghetti squash, as it's a good source of fiber and vitamin C. Kale is another good source of vitamins A, C, and K. You can even add some extra nutritional value with this pesto recipe made with garlic and sun-dried Tomatoes—it's full of antioxidants superfood!
If you're looking to add more vegetables to your diet, this is a great way to do it! The spaghetti squash is easy to prepare and can be used as a substitute for pasta as it's low in calories and carbs. Kale is also easy to cook with—just toss the leaves into boiling water for 20 seconds and then drain them. The pesto recipe is full of healthy fats, protein and fiber
See how to make this recipe at https://ohmyveggies.com/spaghetti-squash/
3. Cauliflower Fried Rice
This Chinese-style cauliflower fried rice is a healthy, low-carb dish that makes a satisfying meal.
Cauliflower rice, which looks and tastes like regular white rice but contains far fewer carbohydrates and calories, can be used in any recipe that calls for cooked grains.
This quick and easy recipe for cauliflower fried rice is based on Chinese-style fried rice but uses grated cauliflower instead of white or brown rice. It makes a healthy, low-carb dish that's hearty enough to serve as a main course
Servings: 4
Prep Time: 15 Minutes
Cook Time: 15 Minutes
Total Time: 30 Minutes
See how to make this recipe at https://www.onceuponachef.com/recipes/cauliflower-fried-rice.html
4. Vegetarian "Bolognese" Over Zoodles
This hearty, rich and incredibly delicious veggie Bolognese sauce is the perfect guilt-free comfort dish when you're craving pasta but watching your calorie intake. Make this your go-to meal when that craving hits!
These zucchini noodles are comforting, satisfying—and packed with nutrients!
Why you'll love this dish
Low in calories Zucchini pasta is a healthy alternative to traditional wheat-based pastas, with fewer carbohydrates and more dietary fiber.
Cooks up in no time! To cook zucchini noodles, you need only heat them up—cooking is not required.
Zucchini is naturally gluten free, Gluten-free diets are now widely accepted, due to increasing awareness of the health risks of gluten intolerance.
Totally amazing! You've just got to try this recipe
See how to make this recipe at https://thishealthykitchen.com/vegetable-bolognese-zucchini-noodles/
5. Mushroom Stroganoff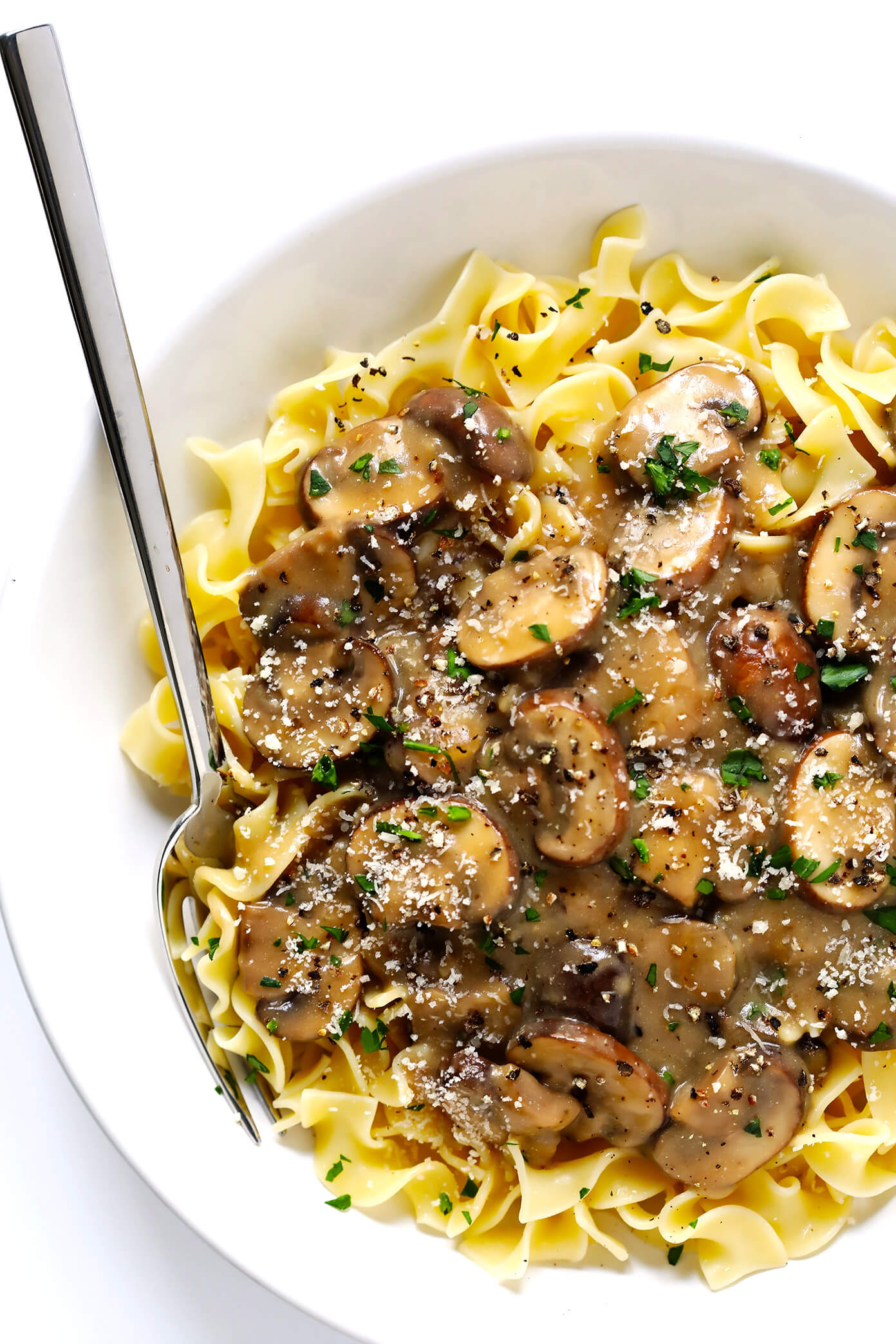 Mushrooms do a great job of standing in for meat, contributing umami flavor and hearty texture without breaking the bank. They're also more nutritious than traditional beef!
When accompanied by tender egg noodles and a savory stroganoff sauce, the flavors of this dish will take you straight back to your childhood.
This recipe for vegetarian Mushroom Stroganoff takes just 30 minutes to make, and it makes a delicious, hearty meal perfect for comfort food night.
See how to make this recipe at https://www.gimmesomeoven.com/mushroom-stroganoff/
6. Sweet Potato And Black Bean Enchiladas
An enchilada is a Mexican dish that consists of corn tortillas rolled around a filling and covered with sauce. Enchilada sauces are typically made from tomato, chile peppers and spices like cumin, garlic and coriander. You can use canned enchilada sauce or make your own from scratch by following this recipe for homemade red enchilada sauce.
Sweet potato and black bean enchiladas are made with roasted sweet potatoes (think: creamy mashed potatoes in the form of a vegetable!), black beans and fresh corn kernels for lots of texture. Topped with pinto beans, avocado slices and fresh cilantro, these easy-to-make vegan meals taste just like they came straight out of an authentic Mexican restaurant!
See how to make this recipe at https://cookieandkate.com/black-bean-sweet-potato-enchiladas/
7. One-Pan Garlic Herb Chicken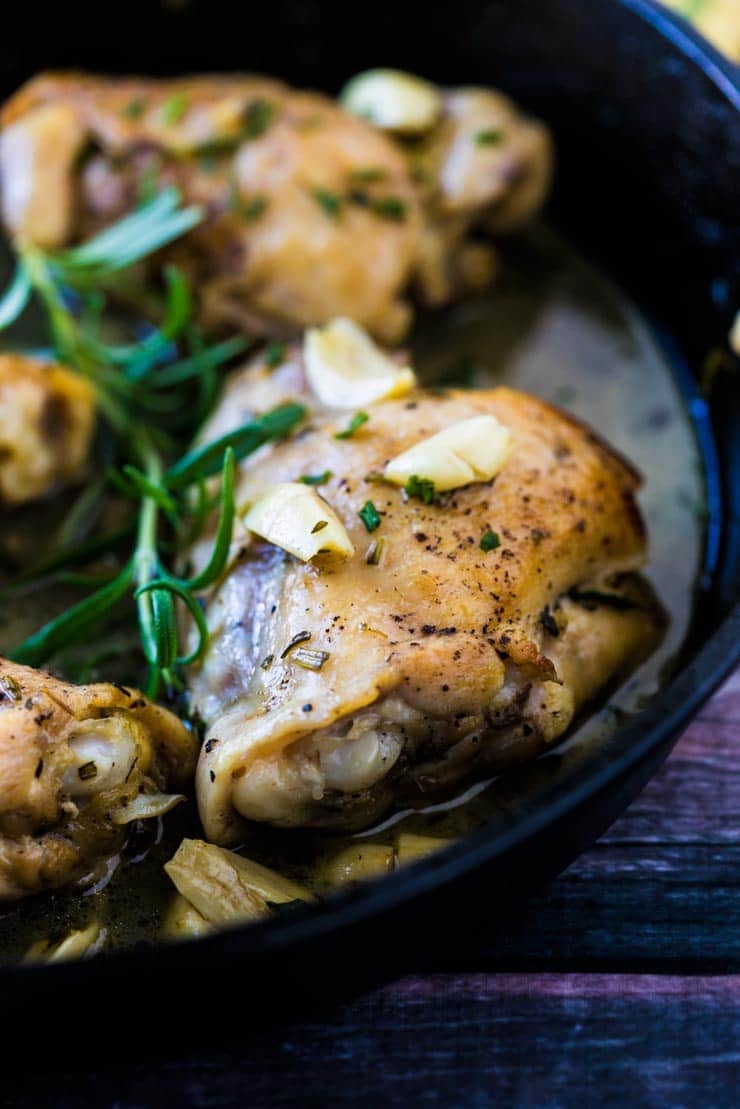 This garlic herb chicken is a one-pan dinner that's made with fresh herbs and makes an excellent way to use your springtime harvest.
This chicken recipe is simple and quick to make, but also very flavorful. Its ingredients include fresh herbs that you probably have around the house: chives and thyme (but feel free to experiment with dill, oregano or whatever else you like).
The following are some other herb pairs that are used in the recipe:
Basil + Dill + Chives
Parsley + Bay + Thyme
Sage + Rosemary + Thyme
Basil + Marjoram + Oregano + Thyme
See how to make this recipe at https://heatherlikesfood.com/one-pan-garlic-herb-chicken-thighs/
8. Buffalo Chicken Sweet Potato Skins
Healthy Buffalo Chicken Sweet Potato Skins – with only 5 ingredients, this tasty snack is great for any occasion and very simple to make.
What makes these sweet potato skins healthy and delicious:
sweet potatoes
rotisserie chicken
buffalo sauce
garlic powder
greek yogurt
green onions
See how to make this recipe at https://sinfulnutrition.com/buffalo-chicken-sweet-potato-skins/
9. Paleo Chicken Broccoli Casserole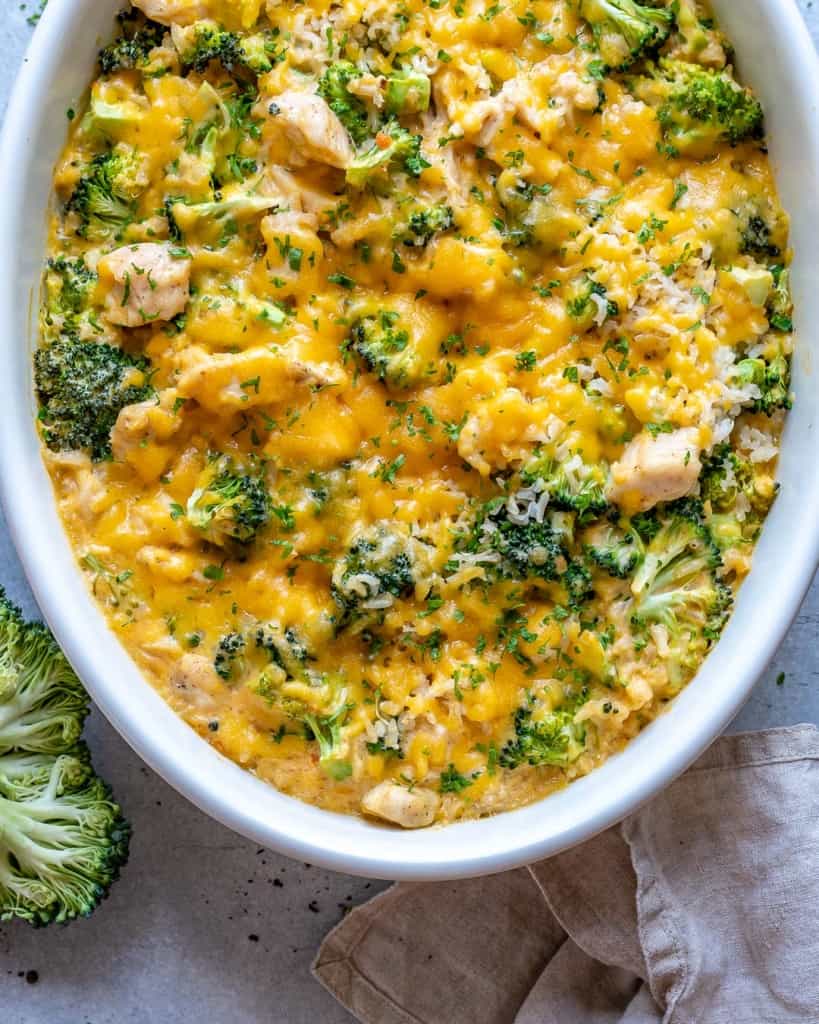 This healthy and hearty chicken casserole is filled with protein, fiber, and flavor. Quinoa can easily be swapped for rice to make it even healthier!
This recipe is healthy, delicious and easy to make. It features brown rice, tender chicken breast and broccoli covered in a flavorful sauce. Unlike many other recipes that are made with unhealthy ingredients such as cream of mushroom soup this one will fill you up without weighing you down
See how to make this recipe at https://healthyfitnessmeals.com/chicken-broccoli-rice-casserole/
10. Coconut-Lime Chicken In The Slow Cooker
This Coconut Lime Chicken is a one-of-a-kind meal for your slow cooker! The combination of juicy chicken flavored with coconut and lime juice, makes this dish stand out from all the rest. It's super easy to prep then let it cook all day in your slow cooker!
Bone-in chicken has more flavor and is generally cheaper than its boneless counterpart. It's also healthier— research indicates that the collagen, gelatin, and glycine in bone broth helps restore gut health by strengthening immunity.
Bone-in meats are an excellent source of minerals such as calcium, phosphorus and magnesium.
See how to make this recipe at https://slowcookergourmet.net/slow-cooker-coconut-lime-chicken/
Takeaway:
As you can see, there are many healthy dinner recipes that you can whip up for your family. If you're looking for a new way to make your family meals healthier, these recipes will be sure to help!
Healthy Dinner Recipes: Spring Season Edition
Conclusion
These are just a few of the many healthy dinner recipes available for you to try. If you are looking for more inspiration, then this list is sure to help with that. We hope it will inspire you and we would love to hear your feedback on these recipes.